Supply Chain & Operations
O3 Mining plans major drills at Alpha and Marban projects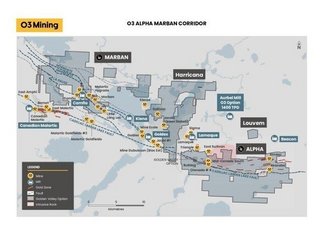 O3 Mining has identified drilling 73,000 metres at its Alpha and Marban projects this year as test work indicates decent gold recoveries
O3 Mining will progress its large-scale drilling program with 73,000 metres planned on its Alpha and Marban projects this year.
The Marban project (40,000 metres) is in the heart of the Malartic gold mining camp, located 12 kilometres from the Canadian Malartic Mine, and covers 7,525 hectares. Activity will be focused on Marban Engineering, focused on the completion of the Marban PFS and future economic studies, and Marban Regional, a greenfield exploration program over the entire project.
Last year it successfully completed an infill drilling program to convert inferred resources within the Preliminary Economic Assessment ("PEA") pits, and aggressively drilled to expand mineralization outside the proposed PEA pits.

The Alpha project (33,000 metres) will see O3 Mining expand known deposits at Kappa and Bulldog and proceed to a resource estimate when there is enough resource to generate an economic scenario, as well as follow-up on significant Sigma type veins intercepted in the Omega sector to prove the existence of an auriferous system proximal to Eldorado's Lamaque mine and hosted in a similar geological environment. The Alpha Property has been explored by various operators since the early 1930s, with more than 2,400 drill holes completed since that time.
The project has a purchase option agreed on the Aurbel mill and the company will conduct a scoping study for the mill and its tailings.

Gold mineralisation in Orenada Zones 2 and 4, within the Alpha property group of claims, share many geological attributes with other vein-type gold deposits of the Val D'Or district in terms of host rock composition, mineralogy and hydrothermal alteration, also known as orogenic gold deposits.

O3 Mining's President and CEO Jose Vizquerra was pleased the test work has confirmed excellent gold recoveries at the Marban project.

"Our test work supports and improves PEA assumptions of quick leach times, strong recoveries, and a simple flowsheet comparable to peers in the Abitibi-Témiscamingue region," he said. "These results provide an excellent foundation for the project and represent a significant milestone for the company as the Marban project moves towards the completion of the PFS."

Additional metallurgical work is planned that will feed into in the final stages of the economic study.

Also on the company's to-do list is resource conversion and expansion at the Akasaba deposit, which offers the potential to become a gold producer in the short term as most of the deposit has already been tightly drilled in the first 300 metres from the surface.
The Malartic property is located in the western portion of the province of Quebec, about midway between the towns of Val D'Or and Malartic and comprises 171 mining claims and 3 mining concessions. The most significant gold mineralisation defined to date is currently known in three main zones: Marban, Kierens and Norlartic.