Supply Chain & Operations
Rio Tinto reports 28 percent drop in first half earnings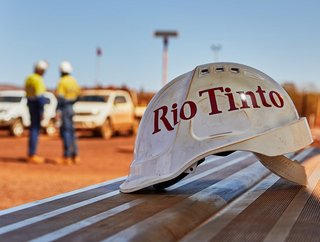 Mining giant cites challenging market conditions for the dip in business but manages to pay out its second highest interim dividend
Rio Tinto reported first half earnings of $8.9bn, down 28%, but paid out its second highest interim dividend of $4.3bn.

Underlying EBITDA totalled $15.6bn (down 26%) and free cash flow $7.1bn (down 30%).

Chief Executive Jakob Stausholm said market conditions were good, albeit below last year's record levels.

"The market environment has become more challenging at the end of the period," he said.

"We remain focused on delivering on our long-term strategy, with a steady improvement in operating performance and some notable advances in our growth agenda. We continue to strengthen our partnership with the Mongolian government following commencement of underground mining at Oyu Tolgoi, delivered first iron ore from the Gudai-Darri mine and approved early works funding at the Rincon lithium project."
He said Rio Tinto is committed to making lasting, long-term change to its culture, including to workplace culture, and building better relationships with Indigenous peoples, communities and partners, following a damaging report in February which stated that bullying and sexism were systemic across its worksites (click here).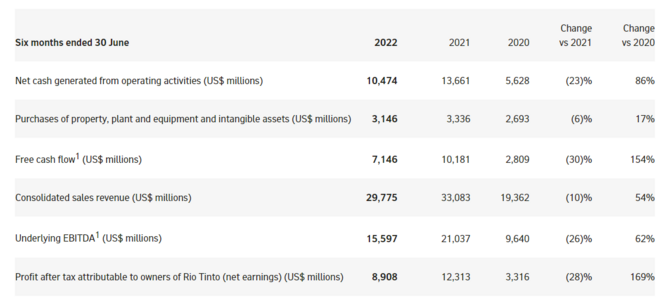 Operational highlights
Rio Tinto and Ford Motor Company have signed a non-binding global MoU to jointly develop more sustainable and secure supply chains for battery and low-carbon materials to be used in Ford vehicles.


It also agreed to pay an additional tax of A$613m to the Australian Taxation Office (ATO) for 12 historical years (2010 to 2021), on top of the A$378m of tax paid in respect of the original amended assessments issued by the ATO. The agreement resolves the disagreement relating to interest on an isolated borrowing used to pay an intragroup dividend in 2015 (click here for both stories).

Rio Tinto delivered first ore from Gudai-Darri, its first greenfield iron ore mine in the Pilbara in more than a decade, and expects it to reach its 43mn tonne per year capacity in 2023.

It fired the first and second drawbells from the Hugo North copper-gold underground mine at Oyu Tolgoi in Mongolia. This followed the comprehensive agreement announced on 25 January 2022, which resets the relationship between partners, and resulted in the start of underground operations. The undercut progression remains on track to achieve sustainable production in the first half of 2023.

Rio Tinto made a non-binding all-cash proposal to the Turquoise Hill (TRQ) Board to acquire the ~49% of the issued and outstanding shares of TRQ that Rio Tinto does not currently own. The proposed acquisition price of C$34 per share values the minority shareholdings at $2.7bn.

On 18 May, it agreed to amend the funding plan with TRQ in order to provide liquidity of up to $400mn in short-term early advances, while the Special Committee of TRQ evaluates our proposal. The deadline in the funding plan for TRQ to conduct an initial equity offering of at least $650mn has also been extended from the end of August to the end of 2022.

Following completion of the acquisition of the Rincon lithium project in Argentina, the Board has approved $190mn to develop a small starter battery-grade lithium carbonate plant with a capacity of 3,000 tonnes per year and first saleable production in 2024. The approval also includes early works to support a full-scale operation, including power line and associated substations, construction camp and airstrip.

Safety remains the company's top priority and it has now exceeded 3.5 years without a fatality. Its all-injury frequency rate of 0.35 improved from 2021 but fatigue, labour shortages and other pressures from COVID-19 have heightened safety risks in day-to-day operations.
The company has set ambitious climate targets to reduce its Scope 1 and 2 emissions by 50% by 2030.

"While, as expected, we are yet to achieve a reduction in our emissions, we are putting the building blocks in place, including a call for proposals to develop large-scale wind and solar power in Central and Southern Queensland to power our aluminium assets in the Gladstone region," it states.

These assets require 1140MW of reliable power to operate, which equates to at least 4GW of quality wind or solar power with firming