Supply Chain & Operations
White paper examines ways US could boost mineral production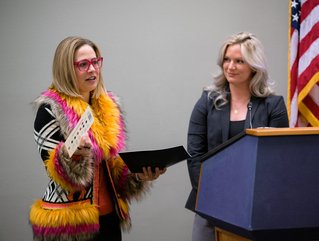 Arizona Senior Senator Kyrsten Sinema (left) with AZDIC President Lynndy Smith. Picture: Acronis SCS
The policy document, entitled 'America's Broken Supply Chain', identifies solutions for the US to improve its domestic mineral production processes
A new white paper examining the US' critical mineral supply chain landscape has been released by the Arizona Defence and Industry Coalition (AZDIC).
The policy document, entitled 'America's Broken Supply Chain', identifies solutions for the US to improve its domestic mineral production processes through increased collaboration between the US government and the defence, mining and clean energy industries.
Formed last year, AZDIC's mission is to act as a united voice for Arizona's defence and industry communities.
Through investments in domestic energy production with recent initiatives like the CHIPS and Science Act, Infrastructure Investment and Jobs Act, and Inflation Reduction Act, the US is making significant strides to bring manufacturing production onshore, improve critical infrastructure and curb inflation.
However, existing US infrastructure and policy surrounding critical mineral extraction and processing hinders the nation's ability to execute this well-intentioned legislation.
As it stands, the US remains heavily dependent on China and Russia for almost 90% of rare earth elements required for computers, electric vehicles, national energy grid storage batteries, fighter jets and all major weapons platforms. Such dependencies, AZDIC says, put the future of the US economy, clean energy and national defence at stake.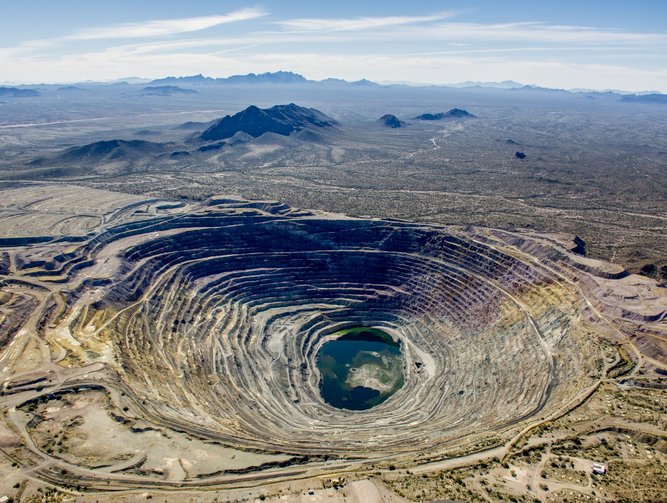 The inactive New Cornelia copper mine in Pima County, Arizona. Picture: Getty Images
Collaboration 'crucial' to energy and defence goals
Assembled by Arizona Senior Senator Kyrsten Sinema, the white paper working group includes AZDIC, the Nature Conservancy, RioTinto and Kore Power.
In January, a roundtable event was held in Washington, DC to evaluate the white paper findings and facilitate an open discussion on how the US can bring critical mineral production onshore.
"We urgently need to reform our critical mineral supply chain to meet our national security, economic and energy independence goals," said Sinema.
"Congress must act quickly to support American production of critical minerals and end our reliance on foreign adversaries to remain strong, competitive and secure. Arizona is leading the way in finding common sense solutions to bring back production in a responsible manner."
Lynndy Smith, President of AZDIC, added: "We are proud to assemble key stakeholders in the defence, environmental and mining industries that don't typically sit at the table together.
"Continued collaboration amongst these groups will be crucial to identifying ways to improve US critical mineral production, and will spark actionable change to help us meet our clean energy goals and defend our nation."
The white paper and roundtable are being billed as initial stepping stones for AZDIC's larger supply chain initiative. A road trip throughout 2023 will see the coalition facilitate discussions with like-minded groups to find solutions for more efficient, cost-effective and environmentally-friendly critical mineral processes.
US-based defence, mining and environmental groups are being encouraged to get involved by contacting Lynndy Smith at [email protected].
Read the full white paper: America's Broken Supply Chain