Copper Mountain Mining receives Sustainability award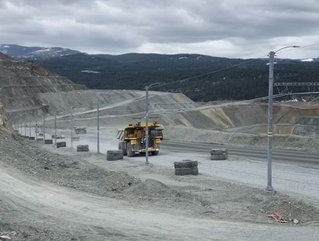 Copper Mountain Mining's Electric Trolley Assist project is focused on reducing carbon intensity and minimising the environmental impact of mining
Copper Mountain Mining Corporation has received the 2022 Towards Sustainable Mining Environmental Excellence Award in recognition of its Electric Trolley Assist Project focused on reducing carbon intensity and minimising environmental impact.
The Trolley Assist installation at the Copper Mountain Mine connects haul trucks to clean BC electricity and will displace approximately 400 litres of diesel and 1 tonne of carbon dioxide each hour per truck up its main haulage ramp.
The system covers a 1km incline from the main pit to the primary crusher, and can support four trucks at any time. Moving heavy rock up a steep incline is a highly energy intensive process and is the largest source of greenhouse gas emissions at Copper Mountain.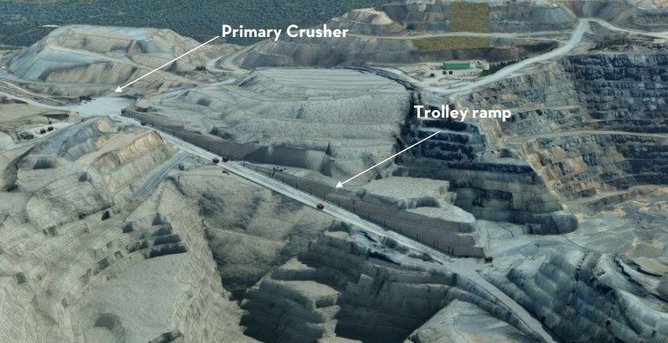 This new technology is anticipated to reduce Copper Mountain's carbon emissions by at least 30% over the next five years and is a key contributor towards the company's goal of net zero carbon emissions by 2035.
This project is in partnership with SMS Equipment, Komatsu, ABB, Clean BC, and B.C. Hydro.

"We are honoured to receive this award as it recognises our commitment to making a difference," said Don Strickland, Copper Mountain's Executive Vice President of Sustainability.
"We are one of the first open pit mines to commission electric Trolley Assist in North America. This is a huge achievement, and we are proud of our team for their efforts in successfully delivering this project. We also have many other projects underway to help us reduce our total environmental footprint."
Copper Mountain Mining has scaled up its progressive reclamation program to reclaim 25 hectares of land per year while focusing on minimising the total disturbed area that requires reclamation, he added.
"We are also collaborating with the BC Ministry of Energy, Mines and Low Carbon Innovation to develop a digital carbon emissions certification system called 'Mines Digital Trust' with the objective of building transparency by tracking responsible producers. Progressive environmental and community stewardship is a main pillar of Copper Mountain's growth strategy."
Miller Technology recently sold its first new battery electric utility vehicle for mining to the Young-Davidson Mine of Canadian mining company Alamos Gold.

Sandvik and Hindustan Zinc have signed an MoU for supply of a battery-electric underground equipment fleet to be used at Sindesar Khurd Mine to help it achieve its carbon neutrality ambitions.

Deliveries are scheduled to begin in Q1 2023, and it will be the first underground BEV fleet deployed in India (click here).