First Mode secures US$200m in funding from Anglo American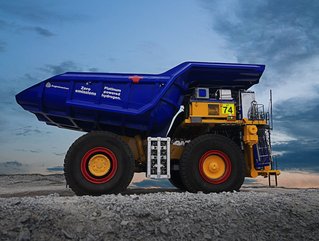 Funding agreement will combine First Mode and Anglo American's nuGen zero emission haulage solution to accelerate clean energy transition
First Mode, a global carbon-reduction company focused on heavy industry, has said that it has signed a binding agreement with the global mining company Anglo American, to combine First Mode and Anglo American's nuGen zero emission haulage solution to accelerate the transition of mining and other heavy industries to diesel-free futures.
Sustainable mining
First Mode said that the transaction, which is expected to close in January 2023, values the newly combined business to the order of US$1.5bn and includes a US$200m equity injection from Anglo American.
Once the transaction is closed, the company will enter into a global supply agreement to supply several nuGen systems to Anglo American, which will include the retrofit of approximately 400 ultra-class haul trucks that come with First Mode's proprietary hybrid fuel cell battery powerplant and related infrastructure.
The supply agreement also includes the appropriate provision of critical supporting infrastructure such as refuelling, recharging, and facilitation of hydrogen production. The roll-out of nuGen™ across Anglo American's haul truck fleet over the next 15 years is subject to certain conditions and required approvals, the statement added.
Anglo American will become a majority shareholder of First Mode, with the balance continuing to be held by First Mode employees. In addition, current First Mode President and CEO, Chris Voorhees will transition to the role of Chief Product and Technology Officer, overseeing the company's global product and technology development out of Seattle.
Meanwhile, Julian Soles, Anglo American's head of Technology Development, will take over as First Mode CEO and be based in First Mode's new headquarters in London.
"First Mode was founded in 2018 with the goal of building the best possible. We have done just that, and our mission is now to rapidly decarbonise heavy industry by dramatically reducing our customers' greenhouse gas emissions. I can't imagine a team better suited to this urgent challenge," said Voorhees.
Accelerating the clean energy transition
The world's first proof-of-concept including renewable energy generation, hydrogen production and refuelling, and an ultra-class haul truck, launched in May 2022, continues to be operated at Anglo American's Mogalakwena platinum group metals mine site in South Africa.
This month the truck reached a significant milestone when it completed initial commissioning and was introduced into the mine's commercial fleet operations, including pit and crusher activities.
"The First Mode mission is much bigger than a single haul truck," said Julian Soles. "Mining is how the world obtains the materials needed for the clean energy transition, and it is where the carbon footprint starts. This is where the First Mode solution begins; starting at the source, in mining, to replace diesel and accelerate the clean energy transition."