IBP: Transforming mining with digital technology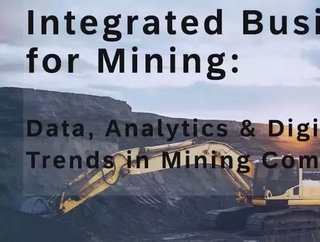 Dundee Precious Metals and KPMG in Canada join Board International for Integrated Business Planning (IBP) webinar...
KPMG in Canada, software vendor Board International and global gold mining firm Dundee Precious Metal Inc. (DPM) will take a deep-dive into how mining companies are using digital technologies to transform their businesses, in a broad-ranging, one-hour webinar on Thursday April 8 at 5pm GMT/12pm EST. 
Integrated Business Planning
Centred on DPM's adoption of best-practices and advanced Integrated Business Planning (IBP) software, the panel will discuss how business planning and analysis across an enterprise can be achieved, to unite disparate data in a user-friendly presentation that delivers better planning and better decision-making.
Senior industry executives, mining stakeholders, analysts and press can to attend this informative, thought-provoking webinar, which will benefit from DPM's on-the-ground experience, and seasoned counsel from KPMG's specialists.
"The digital revolution and increasingly rapid technological innovations are creating opportunities to transform the way we do things, offering safer, cost effective and sustainable solutions to how we approach our business. Being a leader in innovation is one our strategic objectives and we see a lot of potential for technology to provide significant insights into our business and to help the successful execution of DPM's strategy," noted Hume Kyle, Executive Vice President and CFO at Dundee Precious Metals Inc. 
"The mining industry's adoption of different emerging technologies from robotics to cloud computing has been mixed so far. While we've seen companies embrace small projects, such as back-office automation or improved safety measures, large-scale digital transformation is needed to achieve operational efficiency, drive productivity and adapt quickly to changes in market factors," said Erik Woods, National Lead Partner, Enterprise Performance Management, KPMG.
Lending their considerable hands-on experience alongside Mr. Kyle and Mr. Woods, will be KPMG's Heather Cheeseman, a Partner and Toronto Mining Leader, and Anna Ivanova, Director, Business Systems at Dundee Precious Metals, who is currently leading the redesign and roll-out of DPM's business-planning system.
"The industry has had to deal with volatile commodity prices, sustainability pressures, and now the pandemic. But, miners need to make the connection between near-term technology investments and the longer-term sustainability of their operations. At both the mine site and back office, companies should be capitalizing on the benefits of technologies to reduce downtime and costs, improve operational efficiencies and provide greater visibility into production, while reducing health and safety risks," said Heather Cheeseman, Toronto Mining Industry Leader, KPMG.
Anna Ivanova, Director, Business Systems, Dundee Precious Metals Inc., said "At DPM, we have taken a holistic approach to transforming our business planning and analysis that will help translate our business strategy into execution and support the achievement of our overall business objectives."
Webinar
Taj Mian, Managing Director for Canada-Board International is pleased to host customer Dundee Precious Metals and consultants from KPMG in Canada, to share how forward-looking mining operators can significantly improve their Business Planning and Analysis functions across their diversified operations. 
"With today's supply-chain challenged environment, having an Integrated Business Planning platform to integrate planning across multiple time horizons, connecting mining field operations with Finance and corporate functions is essential," said Mian. 
"I'm looking forward to this quality webinar that will help mining staff learn how to spend less time on data collection and more time for sensitivity analysis, scenario planning and improved resource allocation and prioritization, courtesy of our panellists. For Board's part, we're leaders in breaking down the barriers for reporting and analysis hamstringed by siloed software and solutions, to integrate data and standardize 'one version of the truth' across a mining firm, to improve decision-making and governance," added Mian.
To find out more, join KPMG in Canada, Dundee Precious Metals, and Board International to discover how mining companies are using digital technologies - sign up for this forthcoming webinar on Thursday April 8 / 5pm GMT/12pm EST:
About Dundee Precious Metals Inc.
Dundee Precious Metals Inc. is a Canadian-based international gold mining company with operations and projects located in Bulgaria, Namibia and Serbia. The Company's purpose is to unlock resources and generate value to thrive and growth together. This purpose is supported by a foundation of core values, which guides how the Company conducts its business and informs a set of complementary strategic pillars and objectives related to ESG, innovation, optimizing our existing portfolio, and growth. The Company's resources are allocated in-line with its strategy to ensure that DPM delivers value for all of its stakeholders. Shares of DPM are traded on the Toronto Stock Exchange (symbol: DPM).
About Board International 
Board is the #1 decision-making platform. Founded in 1994, Board enables people to have a transformative impact on their business, helping them to intuitively explore and leverage their data in a flexible, all-in-one decision-making platform. By unifying Business Intelligence, planning, and predictive analytics, the Board platform allows companies to produce a single, accurate, and complete view of business information, gain actionable insights, and achieve full control of performance across the entire organization. Thanks to Board, more than 3,000 organizations worldwide, including Coca-Cola, Ricoh, KPMG, Puma, Siemens, and ZF Group, have deployed end-to end decision-making applications at a fraction of the time and cost associated with traditional solutions.  
About KPMG in Canada  
KPMG 's Advisory professionals work with mining companies globally to to improve and enhance finance processes with technology, including EPM software implementation services. We develop practical recommendations designed to help finance teams work smarter, shifting from the traditional compliance function with automation, streamlining processes, and improving performance reporting to provide more business insight.  
KPMG has more than 7,000 professionals/employees in over 40 locations across Canada serving private- and public-sector clients. We are trusted advisors to Canada's leading organizations. They choose us because we are known for our talented people, deep technical experience, industry insights and our ability to get the job done.