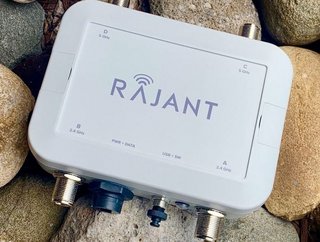 Credit: Rajant
The only radio manufacturer supporting M2M communications, Mining Digital sits down with Geoff Smith, Executive Vice President of Global Sales & Marketing
From recently deploying a wireless communication system at De Beers' Venetia diamond mine, to creating an industry-first credit card sized dual-radio, Rajant is at the forefront of innovation.
We caught up with Geoff Smith, Executive Vice President of Global Sales & Marketing, on how the company is supporting the operation of autonomous vehicles within the mining sector and what we can expect to see in the future.
What is Rajant Corporation's role in the development of autonomous vehicles?
While we don't have a direct hand in manufacturing the elements of autonomous vehicles, our technology is the fuel that allows them and similar robotics to operate. We specialise in wireless mesh network technology, specifically Kinetic Mesh® wireless networking. We design, create, and optimize wireless devices that interlink with one another to provide data coverage for devices in a given space or geographical area. Autonomous and tele-remote vehicles require a substantial upload and download capacity to function properly in real time. Our technology optimally provides strong, consistent signal coverage for autonomous and tele-remote operation.
What are the benefits of the mining sector utilising autonomous vehicles?
50% of mining operations are currently underground, with more subterranean excavations planned for the future. Autonomous and tele-remote vehicles allow for increased throughput and operational efficiency while reducing risk to human life. We have all heard of tragedies that involved trapped miners deep inside an excavation site. With autonomous and tele-remote vehicles, mining companies can relocate their human workers to a safe location while robotics excavate and transport materials to be turned into refined products. Our networks can also support multiple applications simultaneously, allowing us to provide VoIP and seismic monitoring in addition to powering IoT device connectivity.
How does Rajant Corporation's Kinetic Mesh networking technology support the operation of autonomous vehicles?
Autonomous and tele-remote operations require a robust and reliable network; they need the ability to provide consistent upload and download capacity while covering a large or obstructed area. Our network technology does just that. Through intelligent software embedded in our node devices, data routing works around any damaged fiber connections or malfunctioning infrastructure to provide an around-the-clock connectivity. Our nodes, known as BreadCrumbs®, can be positioned throughout a space, on vehicles, and on individual personnel to give a dense zone of coverage where vehicles can operate autonomously and via tele-remote links.
In addition to providing the upload and download speed these robots need, our network also allows for real-time personnel and asset monitoring. Monitoring key assets is essential for safety in many industries deploying autonomous vehicles. Site managers can know exactly where human personnel, autonomous vehicles, and other mission critical assets are to ensure a high level of safety and operational efficiency.
We always have multiple paths of communication, which is critical. We ensure that our technology maintains connection viability.
What industries can benefit from Rajant Corporation's autonomous vehicle technology?
Our Kinetic Mesh is not solely designed for autonomous vehicles. Many industries need reliable connectivity that can be rapidly deployed or adjusted depending on space limitations. Some of the other sectors we work with are military, agriculture, material handling, manufacturing, energy, rail, and port shipping.
Major adoptions of autonomous and tele-remote robotics will be for roles with high levels of risk or injury levels or to supplement a workforce.
How does Rajant Corporation ensure the security and privacy of autonomous vehicle data?

We support military business and our cryptographic solutions are National Security Agency (NSA) certified. Developed primarily for Department of Defense (DoD) applications, Rajant's encryption capabilities work into the Rajant's commercial products. Every single product we deploy supports 256-bit AES encryption, one of the most complex encryption methods around today.

Tell us about Rajant's new partnership with De Beers

Rajant Kinetic Mesh wireless networks have provided resilient connectivity for surface vehicles at the De Beers Venetia diamond mine for years. But, underground is different. The way network signals work underground is inherently different from above-ground because of large obstructions in narrow tunnels and how signals can reverberate in confined spaces. Despite these difficulties, our network technology was recently approved for subterranean deployment after being validated through rigorous testing. Sandvik intelligent loaders and trucks feature smart solutions that rely on ubiquitous network connectivity within the challenging underground environment. Rajant 's BreadCrumbs are mounted in fixed points within the mine and on every vehicle to directly connect to the vehicle's cameras and control safety systems. This ensures the remote controlling systems have 100% connection to the onboard systems when required.

Our collaboration with Sandvik on digital mining tests ensures that wireless communication can be used with tele-remote and autonomous vehicles destined not only for the De Beers Venetia diamond mine , but if required in all other Sandvik deployments.

Now all Sandvik mining equipment at the Venetia Mine, both autonomous and tele-remote operated, will be powered by Rajant's network technology.

What do you think the future of autonomous vehicles in the mining sector look like?

We're only scratching the surface of autonomous and semi-autonomous robotics in mining. In the coming years, the range and efficiency of signals will greatly improve. This will allow for deeper excavations, off-site control centres, AI-powered autonomous vehicles, and overall, greater volume and throughput in mines. Robotics will never completely replace the human element in the mining sector, but what is certain is that more robots that help boost productivity and reduce risk to human life will be introduced.