Supply Chain & Operations
Rio Tinto flaunts rare jewels at final Argyle Diamond Tender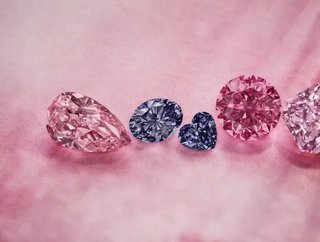 Mining giant Rio Tinto displays its dazzling set of rare pink, red, blue and violet Argyle diamonds as it presents the 40-year annual invitation-only event
They say diamonds are a girl's best friend, but what about Rio Tinto's? The mining titan's final Argyle Pink Diamonds Tender collection is on display for collectors, connoisseurs, and expert jewellers to admire at the near 40-year-old prestigious event in Antwerp, Belgium. 
Following the round-up of Argyle's successful mining operations on November 3, 2020, this year marks Pink Diamond Tender's last collection showcase of the planet's rarest diamonds. The assortment of pink, blue, red, and violet diamonds are part of the most exclusive, most valuable, and rarest exhibition in the world, with Argyle's annual production showcase a historically anticipated pinnacle of precious metal events globally. 
Argyle Pink Diamonds Tender gets impressive send-off with haul of substantial jewels
"The first Argyle Pink Diamonds Tender was held in Antwerp in 1984, and I am delighted to host the final epic collection in Antwerp," says General Manager of Sales and Marketing for Rio Tinto's diamonds business, Patrick Coppens. "Over the past 38 years, Argyle pink diamonds have pushed the boundaries of rarity and value appreciation to new extremes.
"When you consider the number of diamonds presented at the annual Argyle Pink Diamonds Tender since 1984 would barely fill two champagne flutes, you begin to grasp the rarity and the tremendous gravitas of this final collection. Many of the invitees have participated in the annual Argyle Pink Diamonds Tender for more than three decades and across generations, so it is an emotional moment in the history of Rio Tinto's Argyle Pink Diamonds business and the natural fancy coloured diamond industry."
Precious metals dazzle industry as the final year breaks records
This year has seen the sheer number of diamonds larger than one-carat break records. A magnificent total of 70 diamonds weighing roughly 82 carats ensures the 2021 tender event will go down in precious metal history.
The Journey Beyond diamond tender collection consists of five 'hero' precious jewels selected for their beauty and uniqueness. The diamonds have also been awarded names so that a permanent record can be kept noting their significance to the history of the world's most dazzling diamonds. 
Lot 1: Argyle Eclipse™, 3.47 carat, radiant shaped Fancy Intense Pink diamond

Lot 2: Argyle Stella™ 1.79 carat, square radiant shaped Fancy Vivid Purplish Pink diamond

Lot 3: Argyle Lumiere™ 2.03 carat, square radiant shaped Fancy Deep Pink diamond

Lot 4: Argyle Solaris™ 2.05 carat, radiant shaped Fancy Intense Pink diamond

Lot 5: Argyle Boheme™ 1.01 carat, radiant shaped Fancy Red diamond
Headlining the event is the Lot Number 1: Argyle Eclipse™ collection, showcasing the grandest Fancy Intense Pink diamond ever up for sale at the tender, a magnificent 3.47 carats. Also featured is the Once in a Blue Moon blue diamond collection, consisting of 41 jewels and weighing an impressive 24.88 carats