China opens first privately built 5G mining network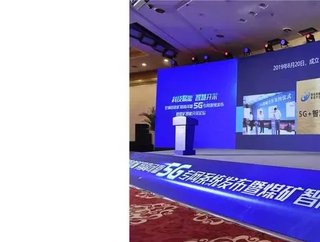 Mobile network began operations on October 17 at a coal mine in Shandong as part of China's drive to modernise industries with digital infrastructure...
China's first privately built 5G mobile network for mining began operations at a coal mine in the eastern coastal province of Shandong on October 17, as part of the Chinese government's drive for industries to modernise with leading digital infrastructure.
In a statement, Shandong Energy Group says that the 5G network was independently built and deployed at its subsidiary Baodian Coal Mine's operations. The next generation mobile system delivers faster data transmission inside the mine – reaching less than 20 milliseconds, as compared to three to four seconds on 4G technology, according to a report by state broadcaster China Central Television (CCTV).
The difference enables workers to have better control over the operations of mining equipment deployed hundreds of metres underground. With peak data rates up to 100 times faster than current 4G mobile networks, 5G has been described as the 'connective tissue' for the Internet of Things, autonomous cars and smart cities, among other new mobile applications that will establish the backbone of an industrial internet.
Li Xiyong, secretary of CPC Shandong Energy Group Committee and Chairman of Shandong Energy Group, says that intelligent mining is the fourth technological revolution of the Chinese coal industry, and that the implementation of an energy security strategy in the coal industry is the only way and the inevitable choice for quality development. 
He adds that Shandong Energy has established the China's first joint laboratory of a 5G+ smart coal mine and independently developed the world's first set of reliable mine-use 5G network system, which has been granted national safety certificate of mine-use products. 
The complete set of 5G systems have been applied in several big coal mines, marking a cornerstone of the application of new-type infrastructure in coal industry. 
Shandong Energy's next plan is, in line with the planning of a national digital economy, to carry out its strategy of innovation with focus on digitalisation of product innovation, intelligentisation of production and operation, ecologicalisation of sectors.
The 5G gear used in the Boadian Coal Mine was supplied by Beidou Tiandi, an equipment maker for smart mining and manufacturing. Founded in 2010, it became part of the Shandong Energy Group in August 2020, after Yankuang Group, another state-owned coal mining enterprise and the gear maker's controlling shareholder, merged with Shandong Energy Group.
The network includes mine-use 5G core networks, 5G base stations, 5G base station controllers, and 5G high reliable controllers, 5G edge computing controllers, 5G CPE, 5G smart phones, etc., which can be widely used in extremely harsh coal mine production control scenarios.
Wang Guofa, an academician of the Chinese Academy of Engineering, says that the mine-use 5G private network system is a highway network paved for the intelligent construction of coal mines. 
The 5G private network developed by Shandong Energy BeidouTiandi Company is the world's first dedicated 5G network for coal mines, which is in line with the needs of the intelligent construction of coal mines. Additionally, it is particularly beneficial for coal mine enterprises to promote intelligent coal construction and intelligent systems, he concludes.