Only 11% of mining executives using digital - MCi report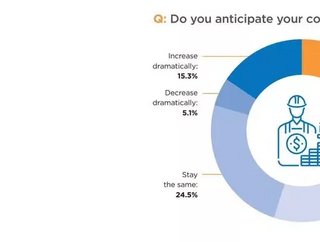 MCi report surveyed 140 mining executives and found only 11% using digital and 90% manually process data...
An alarming 90% of mining executives continue to manually process data and only 11% use a digital platform, according to The State of Contractor Management in the Mining Industry report from Management Controls inc (MCi).
The report surveyed 140 executives and found the more contractors a company manages, the more challenges they face, such as additional cost, controlling issues such as having the proper skill mix to get the job done, managing variations on agreement terms, and keeping project timelines on schedule.  
"At a time when a great digital transformation is underway within the energy and manufacturing sectors on the heels of Industry 4.0, it's clear that mining could strengthen its position by adopting more streamlined digital systems for contractor and project management," it concludes.
Staying competitive means adopting digital tools to reduce manual processes and promote more accurate spending and allocating of time and resources, the report adds.
The survey also found:
60% of surveyed companies reported projects being behind schedule and over budget 
Enterprise-wide contractor spend is upward of $1 billion per year for 11% of companies 
15.3% of respondents reported spending more than $100 million per year on contractor management, rising to 23.5% spending $50 million or more 
An equal split (27.5%) expect contractor spends to increase slightly and decrease slightly
Key contractor pain points included maintenance scheduling, achieving proper skill mix, manpower visibility, permit process, available workforce, staying within budget and timeliness. 
Procurement department challenges comprised variation in agreement terms, Managing vendor disputes/concerns, Vendor insurance, certifications, Negotiation of terms, Managing purchase orders and Vendor audits.
Despite the weaker and less certain global economy, the mining industry is still strongly positioned. According to Mine 2020, PwC's 17th annual review of global trends in the mining industry, the top 40 mining companies remain financially strong, with flat EBITDA and revenue up 4% to $692 billion, and Capex up 11% to $61 billion worldwide. 
Although PwC forecasts capital spend to drop overall by the end of 2020, solid financial performance and capital discipline in 2019 has left mining well-positioned in the wake of economic contraction. In the United States, the mining sector's market share is $396 billion according to IBISWorld, and it employs more than 569,000 industry workers.